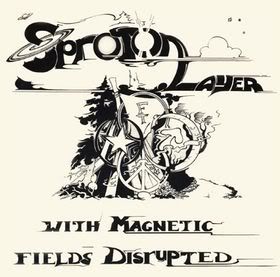 New Alliance, 1991; out of print
This is one of those gems I find that wasn't truly released until years after it was recorded. Sproton Layer was a group of Ann Arbor teens (all between 15 and 17 when the project started in '68) deeply under the influence of Barrett-era Pink Floyd, free jazz, Beefheart, the Stooges, etc. Why should you care? Well, it just so happens that the brothers Miller comprised 3/4 of this group. Bassist/lead vocalist Roger went on to Mission Of Burma et al eight years later (after relocating to Boston), while drummer Larry and guitarist/vocalist Ben joined Destroy All Monsters for the seminal "Bored" single. The brothers had previously performed together as Freak Trio, which was apparently a mostly improvisational project. The remaining Sproton member was trumpeter Harold Kirchen, who brought an unusual yet completely wonderful touch to the band. As for the music itself, these guys put some "professional" groups to shame! Having performed live several times in the previous two years, Sproton Layer recorded this album in 1970. Simultaneously ahead of their time yet perfectly suited to it, Sproton Layer created songs that can be noisy and heavy or pretty and dreamy, often within the same short composition. Larry's unusual jazz-influenced drumming combines perfectly with Roger's chugging bass, while Ben has absolutely no problem either following along or going off on noisy tangents; he even delves into proto-noise rock and surf modes at times. Secret weapon Harold punctuates all the right moments with expert trumpeting, and while his presence is a little startling at first, after a few listens you notice just how much that damn trumpet adds. To their credit, there's also not a drop of filler on this album*. The lyrics can be pretty goofy in a psychedelic way (sample: "I know where there's a bush!/O-VER THERRRRRRRE!"), but given the heavy Barrett influence that's perfectly understandable. A Barrett-influenced Mission Of Burma is probably the best description I can give this, but it really should be judged on its own merits as a remarkable recording by a young band who never got their due. While this IS out of print, you should be able to get a good used copy for less than $5 (I did!). This was the last thing Sproton Layer ever did; New Alliance released a three-song single at the same time that shows off their improvisational side on a track or two, and this is also worth hearing. Once you hear Sproton Layer, you'll be glad ANYTHING by them survived to be issued at all! Music this good shouldn't go unheard; why is it out of print now?!?!?!?!?! It's probably worth noting that the Miller boys get together periodically as M3, so if you like this that should be your next stop.
*Sadly, though, none of the songs on WITH MAGNETIC FIELDS DISRUPTED shows off their improvisational side all that much, but oh well, that's what the single's for.